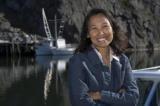 Contact
ratanac@mun.ca
684-3157
Collaboration network
Visualization
Special Equipment
'Coastal Transects Analysis Model', a web-based decision support system.

Research Interests
Active Research Interests:
Reconceptualizing ecosystem complexity.
Governing small-scale fisheries for well being and resilience.
Changing gears, changing grounds.
Governance of marine protected areas: Step zero, goals and images.
Coastal resource management through enhanced stewardship, Lake Malawi.
Governance for rebuilding fisheries and threatened communities, west coast of Newfoundland.

Past Research Interests:
Poverty alleviation and sustainability livelihoods in small-scale fisheries.
The role of coastal ecosystem degradation in tsunami damage.
Socioeconomic and livelihood values of Tonle Sap Great Lake Fisheries.
Optimal harvesting strategies: the case of hake trawl and longline fisheries in Namibia and South Africa.
Participatory research and community-based marine reserve in Yucatán, México.
Ecosystem impacts of fishing gears in Canadian waters.
Coastal fisheries of Latin America and Caribbean: A synthesis of fisheries, assessment and management.
Coastal connections: Interactive governance model for sustainable coastal development.
Integrating multiple demands on coastal zones using 'Coastal Transects Analysis Model'.