The Power of public engagement: Shifting who gets a say in housing development
Description
Development of the built environment (in Canada, but specifically in NL) is determined primarily by a small number of people with the money, expertise, or position to purchase, design, develop, and sell land. The majority is profit-driven, becoming increasingly expensive and ill-suited to the physical, emotional, social, and cultural needs of the people who occupy these spaces. This is particularly relevant in the housing sector. Cohousing is a housing development model, arising in Denmark in the 1970s and evolving in North America through the 1980s and 1990s. Since then, cohousing projects have demonstrated benefits for social connection, physical and emotional wellness, environmental sustainability and (to a lesser degree) affordable living. However, existing systems (regulatory and institutional) have limited who can afford to participate (based on their ability to contribute time, money and knowledge). Without diverse participation, cohousing in Canada has proven a higher cost housing model, despite the goal of over 90% of forming groups to be "inclusive", "affordable", "diverse", and/or "accessible".
In response, Cohousing NL - a cohousing project near St. John's with the express goal of having 30% of its homes affordable to households making less than median income - aims to encourage early and ongoing participation by diverse groups through low cost workshops, hybrid (virtual and in-person options), and free onsite childcare. Multiple funding sources has enabled a series of community engagement workshops, resulting in a community-developed site design and house floorplans for 3 sizes of homes. The workshops will then be turned into Guides for other groups around the country to be able to facilitate for themselves or provide the tools to their local consultants to help guide the process.
This project aims to test this idea that diverse voices will result in more affordability and accessibility, and provides a design framework for engaging people in the design of their own neighbourhoods, housing, and social networks. It proposes public engagement as a tool for shifting the power dynamics of who gets a say in the development of our collective built environment, recognizing that an ethical shift must include equal access to participation and decision-making regardless of the ability to invest (time and/or resources).
Departments
Interdisciplinary PhD

Lead Organization
Cohousing NL

Support Organization
Reclaim Community CDO

Location
39 Farm Road
Portugal Cove-St. Philip's, NL
Canada

Funding
CHTC + City of St. John's Catalyst Fund
CMHC Housing Supply Challenge for Pre-Development Processes, Stage 1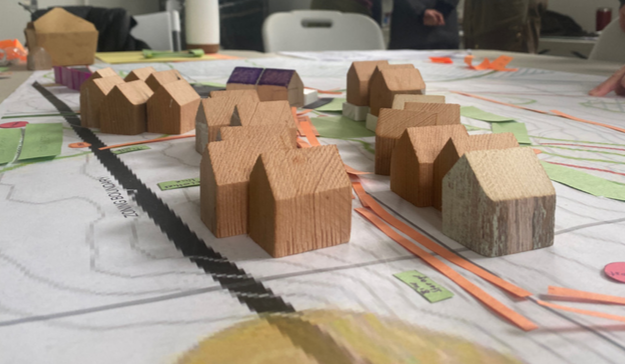 Collaborators

Hillary King
Strategic Research Theme

Community and Regional Development

Environment, Energy and Natural Resources

Governance and Public Policy

Information and Communication Technology

Social Justice

Well-being, Health and Biomedical Discovery