Enhancing Interprofessional Education and Collaborative Practice in the Exploits Region
Description
This project has been designed to meet the needs of citizens and organizations in the Exploits Valley Region of Newfoundland and Labrador, with funding support from the Harris Centre's Thriving Regions program. The activities described here reflect an ongoing partnership between the people living and working in that region and the members of our centre.
Health & social care services rely on collaboration between many different professionals to be effective and efficient. In 2019, care providers reported their concerns about human resource availability, communication, accountability, and mistrusting culture to the then-Central Regional Health Authority. In early consultations, community members identified health & social care provider education, training, recruitment and retention as important issues for their region. The 2022 Health Accord NL report calls for changes to the care system to support interprofessional, collaborative health/social care teams.
The Centre for Collaborative Health Professional Education (CCHPE) provides training and support to care providers working in team-based care environments that can address the issues identified in the Health Accord and by care providers and community members in the Exploits region. There are many benefits to collaborative practice. Evidence shows that no matter what type of care setting they are in (for example, primary care, family practice, emergency, acute, or long-term), when health care teams work more effectively, patients, families, and care providers all have better experiences and outcomes.
The overall objective of this project is to improve outcomes for patients/clients/families, health/social care providers, and learners by enhancing IPECP at key team sites in the Exploits Region. In a consultation event in Grand Falls - Windsor, community members told us their main areas of concern for their communities were primary care, mental health and addictions, diabetes care, and long-term care. We will work with key persons in the region to identify four interprofessional care teams providing these types of care and develop training that will enhance their collaborative practice.
This project will take place in three phases. In Phase I we will consult with community members, select the team sites to develop training, and visit the first site to begin assessing their needs. In Phase 2, we will develop and deliver IPECP training for the first site, measure its impact, and assess the training needs at the remaining 3 sites. In the third phase, we will develop and deliver training for the remaining sites, and complete follow-up visits to measure our success over time.
Our vision for IPECP in the Exploits regions involves interprofessional collaborative practices that are 1) optimized for the best outcomes, 2) integrated in the care system and community, and 3) diverse, so care is delivered in ways that match the needs of patients and care providers.
Departments
St. John's Campus > Faculty of Medicine

Lead Organization
Centre for Collaborative Health Professional Education

Location
Prince Philip Drive
St. John's, NL
Canada
50 Union Street
Grand Falls-Windsor, NL
Canada

Industry Sectors
Health care and social assistance
Nursing and residential care facilities Educational services
Educational services
Funding
Harris Centre Thriving Regions Fund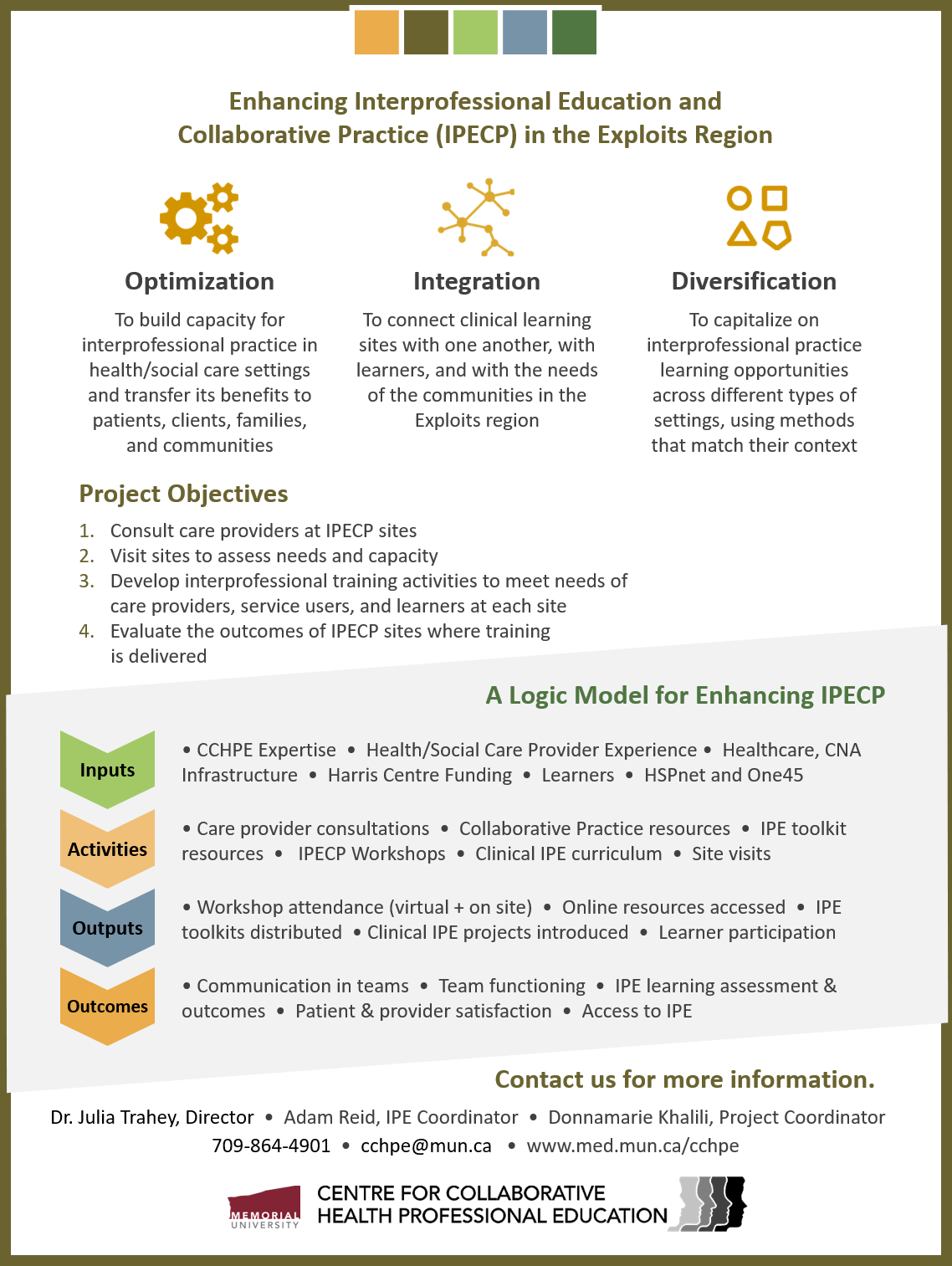 Project Lead(s)

Julia Trahey

Donnamarie Khalili

Adam Reid
Strategic Research Theme

Well-being, Health and Biomedical Discovery
Tags
Health Care
Interprofessional Collaboration
Team
Training