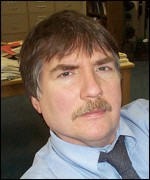 Contact
jwroblew@mun.ca
864-2410
Collaboration network
Visualization
Research Interests
Active Research Interests:
Science basis for marine conservation areas.
Fisheries management policy.
Fish fauna of Bonne Bay in Gros Morne National Park.

Emerging Research Interests:
Subarctic ocean climate change.
Environmental science.

Past Research Interests:
Modeling northern cod metapopulation dynamics.
Science basis for the Gilbert Bay Marine Protected Area.
Modeling phytoplankton and zooplankton dynamics.